HÉHO!
Thank you to Festival du Voyageur for welcoming the Deaf-Blind community and making it accessible this year, 2023.
OUR PURPOSE
Our primary purpose is to "promote and provide professional, independent interpreting services of a high caliber, which meet the needs of consumers throughout Manitoba."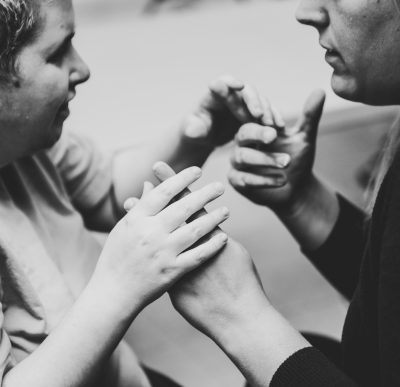 What is deaf-blind?
---
A condition which combines any degree of hearing loss with any degree of vision loss and interferes with communicating and acquiring information; even though Deaf-Blind persons may still have varying levels of useful vision and hearing.
NOTHING ABOUT US, WITHOUT US
---
Nothing about us Without us is a documentary film by totem studios, it was the pilot episode in a series called Our Community that aired on AMI TV on June 29, 2017. It is a beautifully filmed documentary that shows the reality of what it is like living as a Deaf-Blind person, the difficulties involved but also the strength and determination. With the support of the Resource Centre for Manitobans who are Deaf-Blind, Deaf-Blind Accessibility Support and Deaf-Blind Accessibility Interpreters Deaf-Blind people are able to live life independently. 
Who We Serve
---
Adults who are Deaf-Blind due to accident, trauma, disease or condition. RCMDB services may also be extended to family members where the service would benefit the Deaf- Blind individual.
OUR SERVICES
---
Our services consist of adaptive/ adjustment services that recognize the unique needs of Deaf-Blind people. We are committed to an informed and timely process, the provision of accessible service and the recognition of the individuality and differing needs within our target population.
The First Ever Deaf-Blind Summer Camp
---
In the heart of the Western prairies, just outside the city of Winnipeg, on the banks of the Assiniboine River, rests historic Camp Manitou. For the first time in its 80-year history, Camp Manitou is playing host to a community of people who are about to experience their very first summer camp.